Pick up your FREE "Scan If Found" stickers at:
POP Fishing and Marine – 1133 N Nimitz Hwy, Honolulu HI 96817
West Marine – 420 N Nimitz Hwy, Honolulu HI 96817
Surf N Sea – 62-595 Kamehameha Hwy, Haleiwa HI 96712
Windward Boats, Inc – 789 Kailua Rd, Kailua HI 96734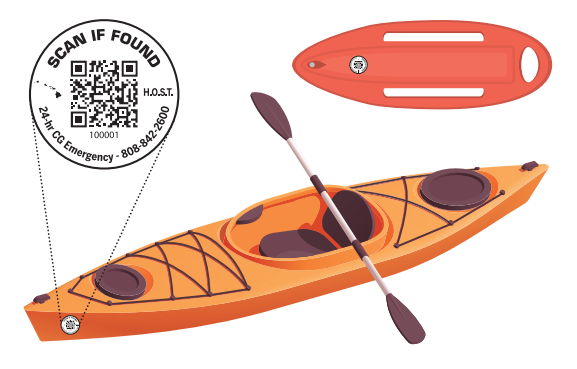 Every week, the U.S. Coast Guard is forced to launch search and rescue missions that don't need to happen, and it hurts their ability to save lives at sea.
When a dive float, kayak, dinghy, or SUP is found drifting in the ocean, the U.S. Coast Guard leaps into action and begins searching for the owner, who might be lost at sea. Sometimes, there's a person in the water who gets the help they need, but most of the time, it's a simple case of lost gear. Either way, Coast Guard helicopters, airplanes, and boats head out to search.
HOST has partnered with the Coast Guard to create the free "Scan If Found" sticker program. If a watercraft is found drifting, these stickers help first responders identify the owner of watercraft and verify that the owner is safe.
The stickers also help people return lost gear to one another & help owners ID their equipment.
Here's how to use a QR code:
Please email questions about the "Scan If Found" to info@hosthawaii.org